Bordeaux
Bordeaux, an 18th century architectural gem, with many attractive, vibrant, and cosmopolitan districts is ideal for a day trip. bordeaux-miroir-deau.jpg Explore the winding streets, visit one of the many museums and art galleries, do some shopping on Europe's longest pedestrianised high street, and then hit one of the charming cafés or restaurants for a bite to eat...
Bordeaux is divided into "Quartiers" or quarters, each with distinct characters and atmospheres. Four of the most remarkable quarters are (from north to south) :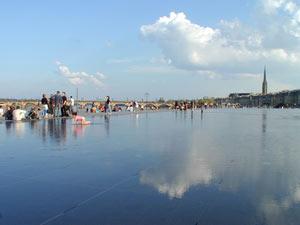 Les Chartrons : a recently redeveloped neighbourhood in the northernly end of Bordeaux. this area has many charms. Old and new cohabit in an engaging mix of antique shops, boutiques, restaurants, modern offices and relaxed squares. Originally famous for its antique shops on rue Notre Dame, it now also boasts ambitious developments such as the Quay front and the Cité Mondale du Vin. (Accessible by tram, line B).
Hôtel de ville - Quinconces : historic centre of Bordeaux, this district is home to the grand public buidings of administration and culture such as the mairie and the Le Grand Theatre (opera house). It's also here that you'll find the magnificent Saint André cathedral as well as the very best of the chic Bordeaux shopping.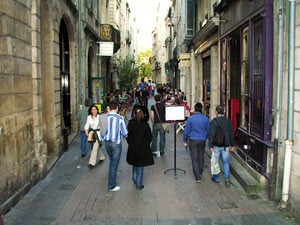 Quartier Saint-Pierre : hidden in the heart of Bordeaux's narrow paved streets, this district is the trendy part of town, with many independent shops, ranging from designer clothing to artisanal jewellery. It is also known as "le quartier des bars" for the large selection of bars that are gathered in this area, including 5 English speaking pubs.
Saint Michel : c'est le quartier populaire, très animés autour de la place Saint Michel idéal pour déguster un thé à la menthe au pied de l'église. Cette dernière est réputée pour sa tour détachée appelée La Fléche, c'est le monument le plus haut de Bordeaux avec une hauteur de 114m.
Pour plus d'informations merci de visiter le site de l'office du tourisme de Bordeaux : www.bordeaux-tourisme.com